I'm still not feeling much like writing, I'm in Eeyore mode, full of gloom and doom about nothing in particular...

Just had a CT lung scan and a brain MRI, and I'll be on tenterhooks until I get the results. For some reason I'm not optimistic the way I usually am. I'm five years into my diagnosis, past the statistical "due date" for lung cancer patients, not in pain, working, taking a relatively easy treatment - a pill once a day - but these days could be coming to an end as a previous scan showed new nodules. If the new scans come back showing growth I'll have to get back into the days of chemo and all that entails...ugh! I've been spoiled by Tarceva!
My COPD seems to be getting worse, too.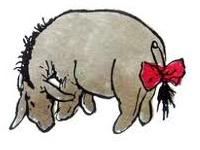 "Good morning, Pooh Bear," said Eeyore gloomily. "If it is a good morning," he said. "Which I doubt," said he.